Technical Information
Duropal Compact Worktop Collection UK & Ireland 2018-2020
Duropal Compact Worktops are made of 12mm thick solid compact laminate, offering great impact and moisture resistance for applications with high demands. Duropal Compact Worktops are produced to DIN-EN-438, hardwearing and easy to clean. The collection also features 3 core colours in grey, white and black. This homogeneous colour through-pigment creates a solid edge appearance. With Duropal you're covered from all directions …
Compact Worktop Bevelled Edge

ll 12 Compact Worktops feature machined bevelled edges as shown in the above diagram.
Worktops (4100 x 640 x 12mm) include the bevelled detail on the front long edge only.
On breakfast bars (4100 x 950 x 12mm), the bevelled detail appears on both of the two long edges.
| Length | Thickness | Width |
| --- | --- | --- |
| 4,100 mm | 12 mm | 640 mm - bevelled one long edge |
| 4,100 mm | 12 mm | 950 mm - bevelled two long edges |
| 4,100 mm | 12 mm | 1,300 mm - bevelled two long edges |
Rustic Touch (RC), Solid Granite (GR), Supermatt (CM), XTreme Plus (XP)
High Compact (HPL) Upstands

Duropal HPL Compact Upstand available in the following size:
4,100 x 120 x 12 mm nominal (top edge bevelled)
Enhance your Duropal Compact Worktop with a matching Duropal HPL Compact Upstand. This accessory offers a cost-efficient and hygienic alternative to tiling.
High Pressure Laminate (HPL) MDF Back Panels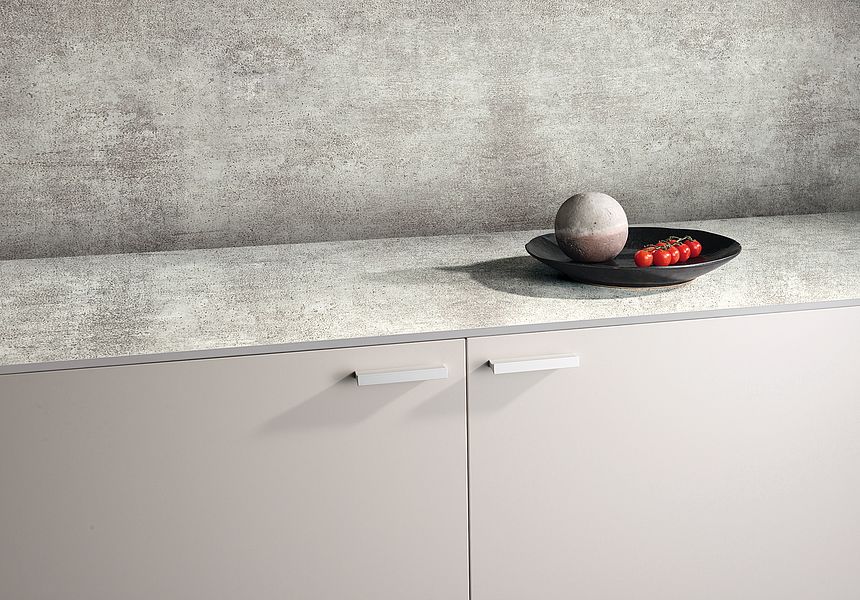 Consisting of a 8mm E1 medium density fibreboard (MDF) core surfaced with genuine Duropal high pressure laminate manufactured to DIN-EN438. Available in the following sizes:
Worktop Decors
4,100 x 640mm x 9.2mm nominal (8mm MDF core)
2,050 x 1,300mm x 9.2mm nominal (8mm MDF core)
Please ensure that due care is taken to correctly seal the product to prevent moisture ingress.
* For installation behind hobs, check with hob manufacturer's fitting instructions to ensure suitability and distance requirements are met.